The Galilee staff is a dynamic team of people from across the country, striving to do our part to make the world a better place.  Guided by Galilee's mission, we seek to be thoughtful stewards of the camp and to welcome warmly all the people we serve. We invite you to get to know us!
Stuart Campbell  Executive Director                                 stuart@galileetahoe.org

Stuart has lived and breathed Episcopal camping since his first week as a camper at age 7. Stuart graduated from Bowdoin College in Maine, where he studied History and Art History, and brings a decade of experience serving at Camp Stevens, the Episcopal Camp for the Diocese of San Diego and Los Angeles. Stuart joined Galilee as its first Executive Director in 2007, and currently also serves as the President of ECCC (Episcopal Camps and Conference Centers). He lives at Galilee with his wife Monica and their two daughters Ava and Gracie, and spends his free time hiking the Rim Trail or paddleboarding on the lake.
Chadwick Clark  Assistant Cook                                                  chadwick@galileetahoe.org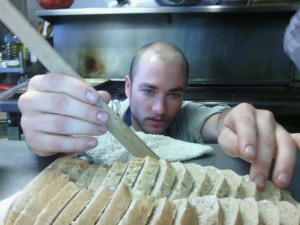 Born and raised near Atlanta, Georgia, Chadwick stepped out his door one morning onto the Appalachian trail and and kept walking until he arrived at the trail's end— 2200 miles later in Maine.  Along the way he heard about Galilee, and has been here ever since. Chadwick's positivity and gusto for adventure bring an exciting addition to our staff and community, where he has been sprucing up our buildings and concocting delicious dishes for our guests.  In his free time, you'll find Chadwick cycling around the lake, snowboarding, kayaking, or working out a new bouldering problem. When he's done with those for the day, he heads home to relax with his older brother and two amazing dogs.
Chelsea Arcaris  Program Director chelsea@galileetahoe.org
Chelsea grew up in San Diego and took every advantage she could to get outside and explore. She attended The University of Redlands where she majored in Environmental Studies and minored in Women's and Gender Studies. In addition she played four years of collegiate volleyball for The U of R. After graduating she began to see that she was passionate about getting kids immersed in the natural world and letting them explore their potential. She taught at Cuyamaca Outdoor School in the mountains east of San Diego for a year and that is where she heard about Galilee's summer camp program. After working for 2 consecutive summers here at Galilee, she knew this environment and community was a perfect fit. On her time off she enjoys hiking, rock climbing, and backpacking.
Kris Jacobsen Retreat Coordinator and Off-Site Program Director

Kris grew up in Prunedale California nestled in the coastal foothills of Monterey Bay. Explorations in the local forests, chaparral and untouched beaches with friends from his church youth group dominate his childhood memories and set him on a path that seems to recapitulate those formative years. While earning a degree in Bible and Philosophy from San Diego Christian College, Kris worked at several summer camps including Hume Lake, Mission Springs, Camp Marston and Camp Cedar Glen. After graduating from college, he was hired by the San Diego County Office of Education and taught Outdoor Ed in San Diego's Peninsular Range for ten years. Some of his climbing buddies worked at an Episcopal camp near by and suggested he look into this place called Camp Galilee where a friend of theirs was looking to hire a summer program director. This lead to six fruitful summers here at Galilee, followed by a permanent move in December of 2015 when Kris took a year-round position as Retreat Coordinator/Summer Program Director.
Eva Labonty and Greg Clensy, and daughter Molly Food Service Director and Retreat Staff
Eva is serving as Food Service Director and Greg will be taking over as Retreat Coordinator in the coming months. They moved recently from Portland, Oregon to make the next step in their adventures in camping. Eva and Greg ran Camp Latgawa, a Methodist camp in southern Oregon for 15 years. We are so happy that they have joined the Galilee team!